This is no ordinary sitter I am writing about this time but one with feathers and a beak: a pigeon.
What makes this bird interesting is that it was no ordinary pigeon either but a champion homing one. Strawberry, that's its name, was hatched some time at the beginning of 1887 and took part in its first race, in the young bird category, on Wednesday, August 3rd of that same year. Strawberry and its fellow competitors were released at Yeovil, Somerset, and flew back to their homes in Reading, Berkshire. Strawberry covered the eighty-one and three quarter miles with a velocity of 1031 yards per minute and won the race. In the second Young Bird Race organised by the Reading Ornithological Society the pigeons were released from Axminster and Strawberry arrived second. It also arrived second in the following race, flown from Exmouth, on August 25th but won its proud owner "the society's handsome challenge cup (value twenty pounds)". 1Reading Mercury, Saturday 3 September 1887, p. 5 on account of his having made "the greatest number of points in the society's races for the season.2[Idem Strawberry's owner was keen pigeon breeder and racer Joseph Walter Barker, a biscuit manufacturer from Reading and a distinguished member of the Reading Ornithological Society. Barker was born at Great Bardfield, Essex, around 1833, to Joseph Barker, a blacksmith, and his wife Elizabeth. By the age of seventeen, he was living at Bishop's Stortford, Hertfordshire, where he was apprenticed to one James Saunders, confectioner. He was still at Bishop's Stortford in the first quarter of 1856 when he married a watchmaker's daughter, Elizabeth Pratt. The 1861 census finds him living on his own in lodgings at Reading and working as a confectioner in a biscuit factory. Ten years later, Mr. and Mrs. Barker were in their own house at 4, Rupert Terrace, with their son Edward Walter and their two daughters, Mary and Ellen. It was some time after he had a house of his own (he moved to 18, Rupert-street after the 1871 census) that Joseph Walter Barker appears to have got hooked on pigeon racing. His name is mentioned in the press in connection with this popular British pastime as early as 1877. In 1878 he told the story of how he flew five adult pigeons from Reading to Brussels, Belgium, two towns which are some 238 miles apart. Rel eased from the back of the Biscuit Factory on Friday July 26th at 10 o'clock a.m. the five birds reached home before 4 p.m. on the same day, having travelled for just over five hours "at the rate of 1329 yards per minute.3" Newbury Weekly News and General Adviser, Thursday 15 August 1878, p. 5 Over the years Joseph Walter Barker bred many racing pigeons and won several prizes and cups. I am sorry to say, however, that he did not enjoy for very long the one Strawberry won for him. Just over a month after Strawberry came second in the Exmouth race, Barker passed away, aged fifty-four, on September 26th, 1887. Strawberry was sold at an auction and bought for £5 by one J. Pelling, Esquire. I am afraid I have not been able to find any information about Strawberry's second owner nor about the life and demise of the feathered racing champion but, fortunately, there exists a carte-de-visite featuring Strawberry on its front and listing some of the races he took part in on the back.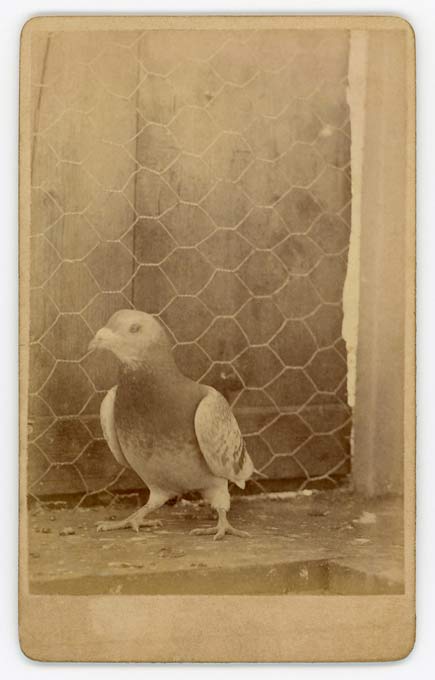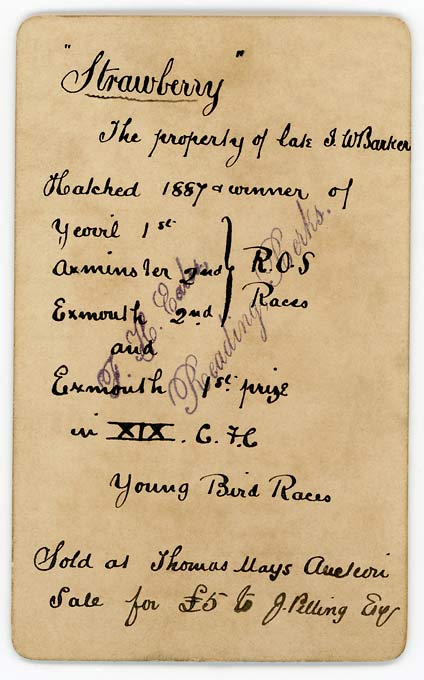 I cannot help wondering whether the photographer who was commissioned to photograph Strawberry expressed some surprise when he was told his sitter would be a pigeon. There are numerous cartes-de-visite of cats and dogs, which can somehow be trained to sit still, but few of birds, which are far less controllable. The artist took up the challenge, however, and managed rather well, considering how skittish pigeons can be, especially when confronted with a stranger carrying a bulky camera which had to be fairly close to it. By the way, the photographer's name, as can be made out on the back of the mount, was Frederick Henry Eales. Little is known about Eales, who was born in Christchurch, Hampshire, in the second half 1840 to Joseph Eales, a cabinet maker, and his wife Fanny. I could find no trace of him in the 1851, 1861 and 1871 censuses but in 1881 he is listed as a thirty-nine year old unmarried photographic artist, living as a boarder at 12 Theobald Road, Croydon. We know from the back of the carte-de-visite featuring Strawberry that by 1887 he was working at Reading, Berkshire, where he had a studio at 81, Oxford Road. He was still there at the time of the 1891 census, still single, still a photographer, and still a lodger, but at a different address. On October 12th 1894, Eales copyrighted a portrait of one of the inmates of the Broadmoor Lunatic Asylum, a woman known as Tottie Fay, one of her numerous aliases, but whose real name remains a mystery. Tottie, who was described during one of her trials as "the worst and wickedest woman in London", was tried and sent to prison dozens of time, mostly for drunken and disorderly behaviour, but also for theft and fraud. She was eventually declared insane in December 1892 and sent to Broadmoor, the first of several asylums she was locked in. She eventually died at Horton Asylum on February 1st 1908. Eales may have stayed in Reading for a few years after he photographed Tottie Fay but by 1901 he had left Berkshire and put an end to his photographic career. We find him at Hornsey, a district in North London, where he was working as a clerk for an estate agent and living at his sister and brother-in-law's house. He apparently died in 1908. Although he was a photographer for nearly two decades, photographs by him are not easy to find. Let's hope this short piece about him will help unearth some of his work.