A few years ago, collector Silard Isaak acquired six letters and postcards written by Moholy-Nagy between December 1921 and June 1925, addressed to his friend Erzsi Landau, a fellow photographer and artist of Hungarian descent who worked in Paris for most of her life. The relationship between László Moholy-Nagy and Erzsi Landau is still surrounded by a certain mystery. Some photo historians say they were simply good friends, while others say their relationship was much more than that, suggesting that Erzsi Landau may have been the one taught Moholy-Nagy the basics of photography. There is also information that Landau sold or donated an old camera manufactured to him and this set him on the path to photography. But there are also those who claim that Moholy-Nagy was taught to use photography in 1922 by his first wife, Lucia.
No clear answers to these questions emerge in this collection of letters and postcard but they do make clear that there was a deep friendship between Moholy-Nagy and Landau.
Unfortunately, not much is known about the provenance of the letters, but they most likely came from the collection by Anna Beöthy Steiner, who was friends with Erzsi Landau and, through her contacts, helped the him establish himself as a photographer in Paris.
According to various sources, Moholy-Nagy and Landau first met in Budapest in 1919, a few months before Moholy-Nagy moved abroad. At that time, Landau worked as a studio photographer, with her own studio, in the then IV. district, Ferencz József embankment 12 (now Belgrade embankment) where she specialized mainly in children's portraits. Landau made two studio portraits of Moholy-Nagy in Budapest in 1919 and later photographed him in Paris, in July 1925.
Moholy also captured Landau, and we know two of his drawings of the photographer. The first was made on December 25, 1919, this was later donated by Landau to the Pompidou Centre and can still be found in the collection today, and the second drawing was made in 1920. We also know of another drawing by Landau, of Moholy-Nagy's mother, made in Paris in 1936.
Moholy-Nagy and Landau exhibited several times together. The first exhibition was part of the big exhibition Film und Foto in Stuttgart in 1929, which later reached several European countries and Japan as part of a traveling exhibition. Its significance is well indicated by the fact that today this exhibition has become one of the important reference points in the history of universal photography. A year later, on March 14, 1930, they were exhibited together in a group exhibition at the Galerie d'Art Contemporain in Paris, featuring paintings by Nora Dumas and Man Ray, among others. Then, in 1933, they were exhibited in Paris in a group exhibition called the First International Nude Photography Exhibition. And in 1937, they presented their works at the Museum of Modern Art in New York as part of a group exhibition called Photography 1839-1937.
In one of the letters in this collection, Moholy-Nagy asks Landau's sister Jolán for his address in Paris, and also also mentions that they haven't seen each other for a long time. In the Moholy-Nagy Foundations archives in Ann Arbor, Michigan, there is a reference to Landau in a letter dated September 4, 1941, which Moholy-Nagy wrote to his second wife, Sybil. He writes that Erzsina Landau needs to immigrate to the United States and needs references from two people. But Landau did not emigrate to the United States, surviving World War II in the French capital, hiding in her apartment, with the help of the janitor.
Unfortunately, part of Landau's legacy was destroyed after her death, when he wanted to send her clothes and personal belongings to a charity organisation, but two suitcases were accidentally exchanged, and the suitcase a suitcase containing pictures and documents was sent instead. Those priceless materials are now lost forever.
In the online archive of the Moholy-Nagy Foundation, I found no more references to Landau, nor or in the two wives recollections, even though both of them knew Landau.
And so to the letters and postcards. Moholy-Nagy usually signs them "Laci". Accurate translations are impossible. Moholy-Nagy writes in an archaic form of Hungarian, full of subtleties, and there are misspellings, missing and unintelligible words, so I'm quoting some, with others, I summarise. At the end, I have included a list of the names that appear in them.
---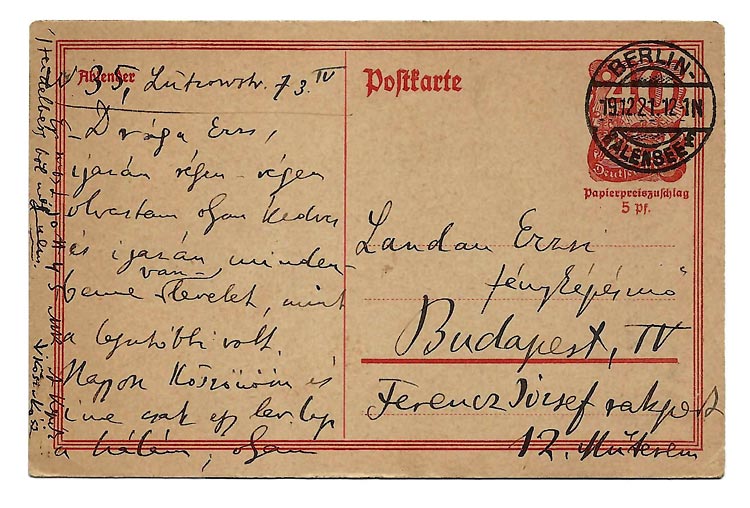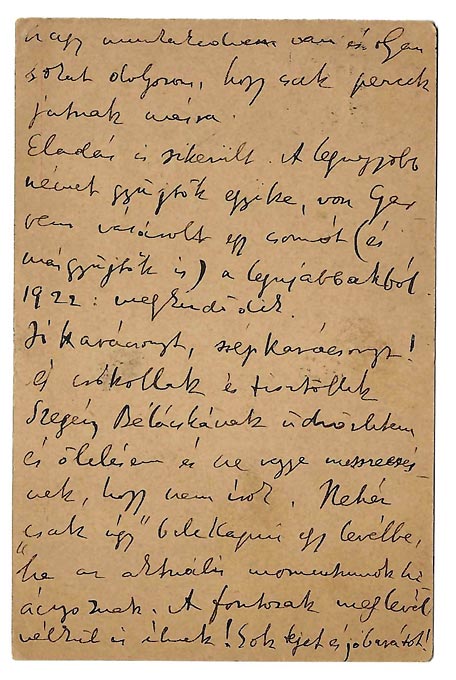 Berlin, 19.12.21.
Photographer Lzanda Erzsi
Budapest, IV,
Ferenc József quay
12 Studio
W 35 Lützowstrasse [asse] 73. IV
Moholy-Nagy thanks Landau for the long letter he has received, "everything is in it" and he also mentions a sale to one of the greatest German collectors, von Gerven, and sales to other collectors, and apologises that he sometimes can't find the time to write letters.
---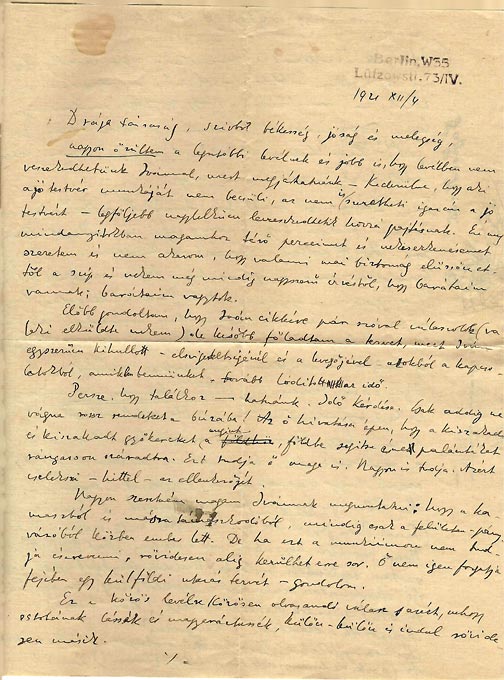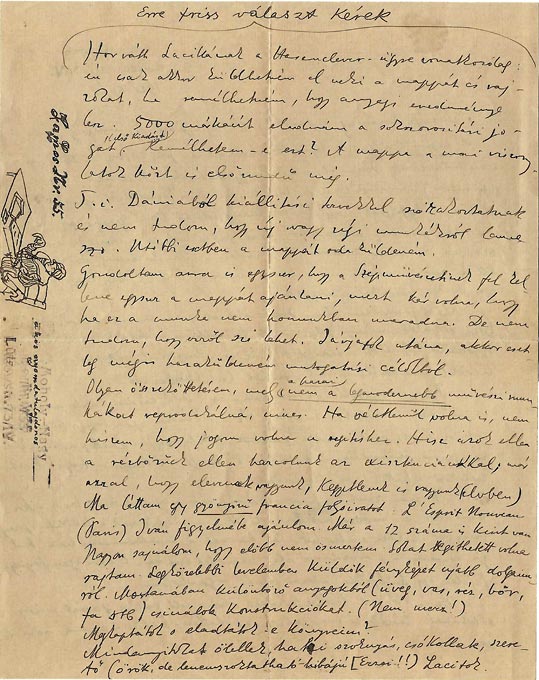 Berlin W 35
Lützowstrasse [asse] 73 / IV.
1921 XII / 4
Moholy-Nagy sends "peace, kindness and warmth from the heart". Most of the rest of the letter deals with Iván Hevesy: aesthetician of Hungarian film and photography, film and art historian, and Moholy-Nagy states that it's best not to quarrel with him, and that he decided not to respond to an article that Hevesy had written, evidently one that had grated with Moholy-Nagy. Further on, he enquires about the potential sale of a folder with drawings by or of
the German Expressionist poet and playwright Georg Alfred Hasenclever (1890 – 1940), whose works were banned after the Nazis came into power. He went into in France, where he would later be imprisoned as a "foreign enemy".
Moholy-Nagy also mentions the possibilities of showing the drawings in an exhibition Denmark but feels that the drawings should be offered to a buyer in Germany. He also mentions that he has seen the French magazine L'Esprit Nouveau , founded by architect Le Corbusier and painter Amédée in 1920. He also writes that in his next letter, he will send a photo of his "new stuff". "Nowadays I make constructions from different materials (glass, iron, copper, leather, wood etc.)"
---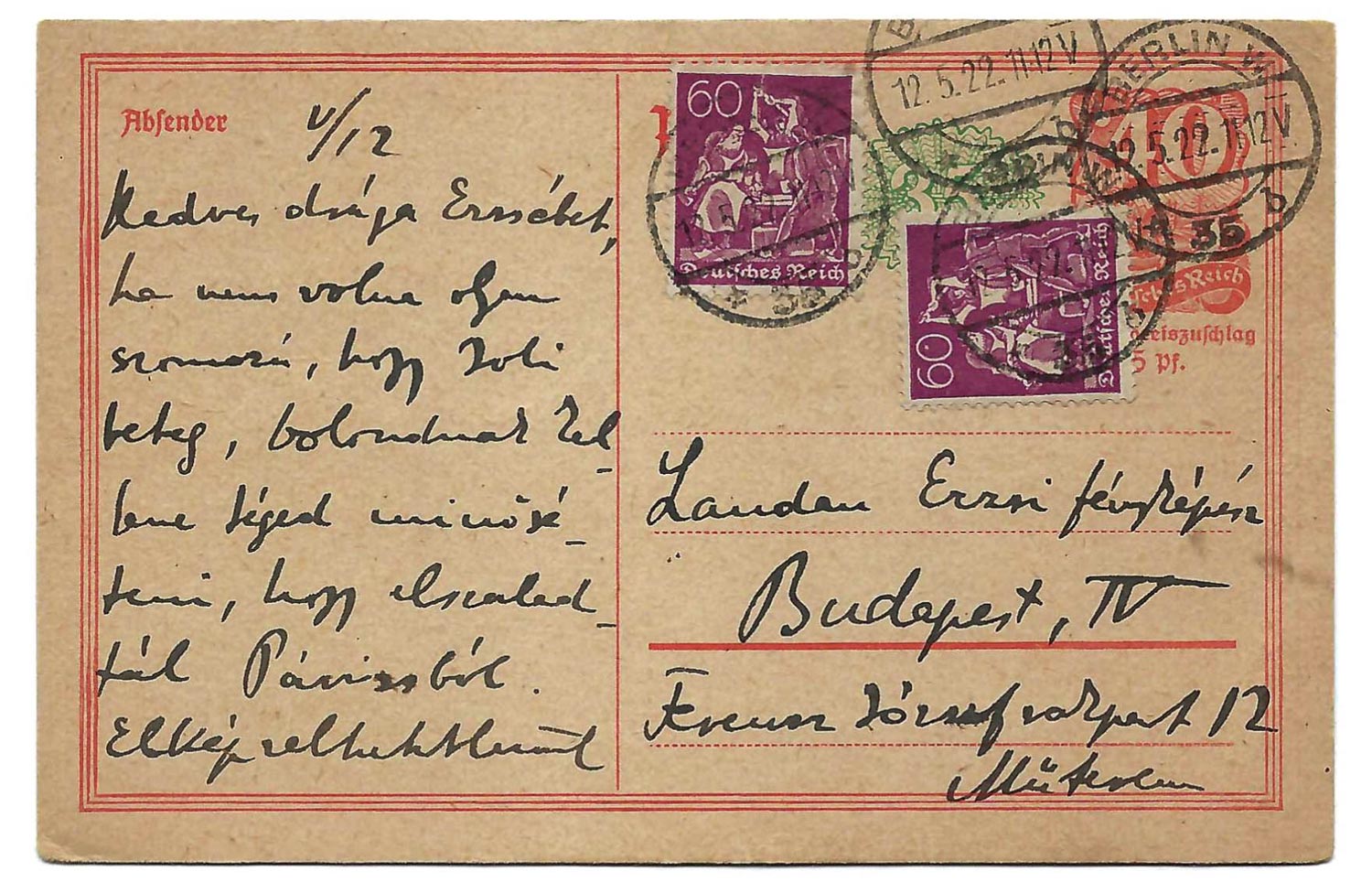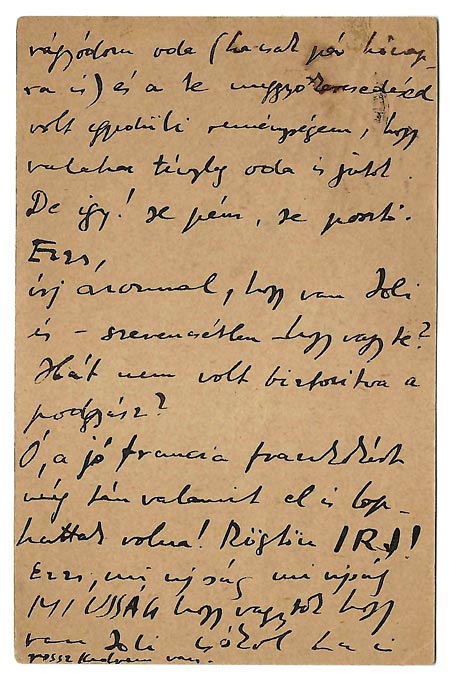 Berlin, 12.5.22. Of 12 May 1922
Photographer Landau Erzsi
Budapest, IV,
Ferenc József quay
12 Studio
Moholy-Nagy writes, "if you were not so sad that Zoli was ill, you would have to be considered a fool for running away from Paris" and that he himself is longing for the French capital. He asks "what's new?" and ends by stating, "I'm in a bad mood."
---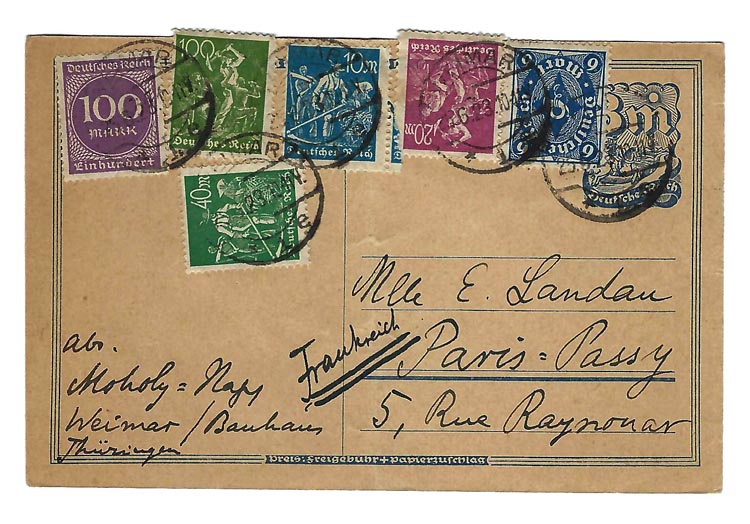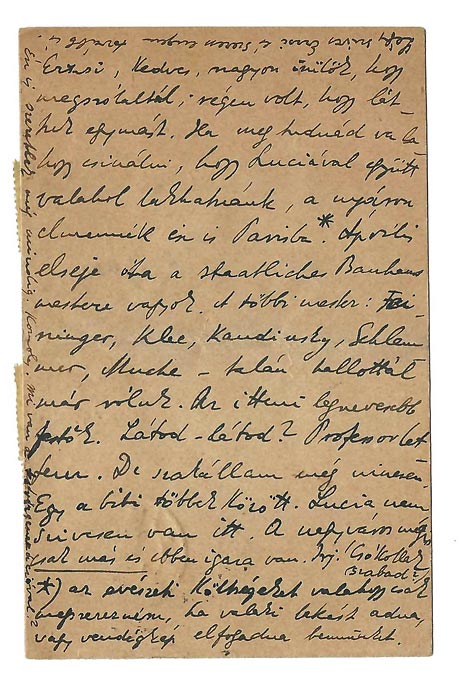 [Berlin] 11.10.23 [1923. October 11]
Mlle E. Landau
Frankreich, Paris – Passy
5, Rue Raynouar [d]
ab. (?)
Moholy-Nagy
Weimar / Bauhaus
Thuringia
"I have been a master of the Staatliches Bauhaus since April 1. The other masters: Feininger, Klee, Kandinsky, Schlemmer, Muche – you may have heard of them. The most famous painters here. Do you see? I became a professor. But I don't have a beard yet." and "Lucia is not welcome here. Yet the big city is just different and you are right about that. Write! Kisses."
---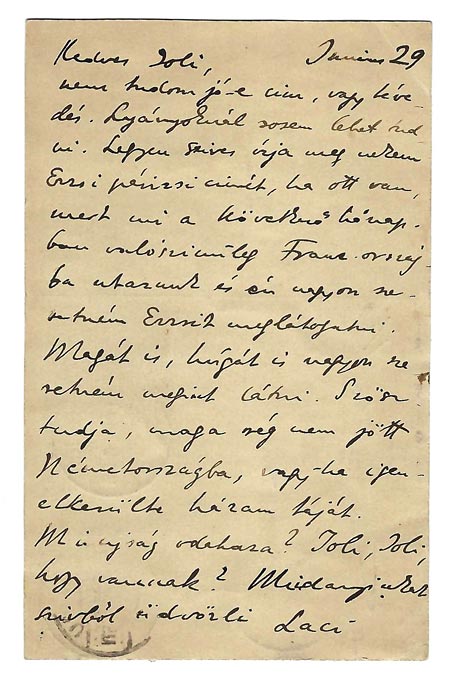 L. Moholy-Nagy
Dessau, Bauhaus
June 29
Dear Joli!
I don't know if it's a good title or a mistake. You can never know with girls. Please write me Erzsi's address in Paris if you are there, because we will probably be traveling to France next month and I would really like to visit Erzsi.
I really want to see you and your sister again. Fluff knows you haven't come to Germany in a long time, or if you've escaped around my house.
What's up at home? Joli, Joli how are you? Laci.
---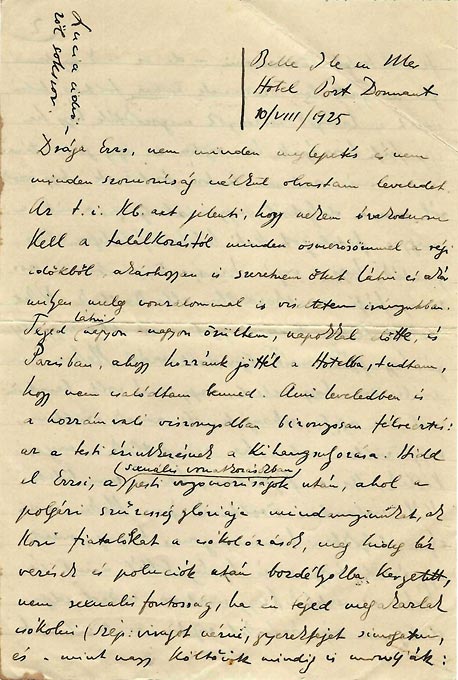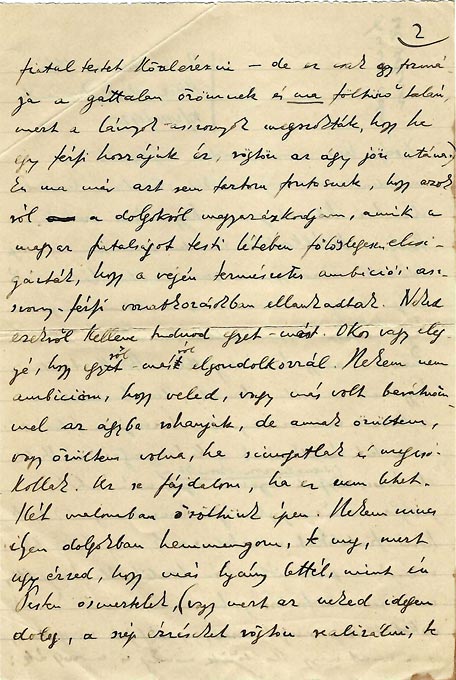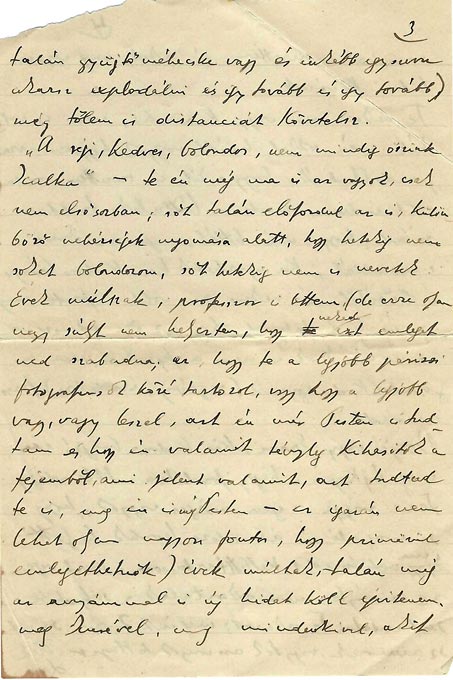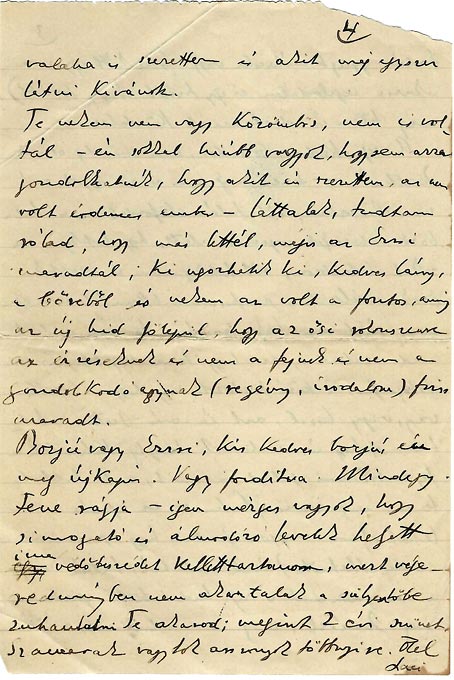 August 10, 1925
Belle Ile en Mer
Hotel Port Donnant
This letter is very personal in tone and Moholy-Nagy writes in response to a letter he has received from Erzsi "I was very, very happy to see you, days before, and in Paris, as you came to us at the Hotel, I knew I was not disappointed in you. What is certainly a misunderstanding in your letter and in your relationship with me is the emphasis on physical contact. Believe me, Erzsi, after the Pest tribulations in sexual terms, where the halo of bourgeois virginity chased us all, young people at the time, to brothels after kissing, cold riots and poluciums, it was not sexual importance if I wanted to kiss you (beautiful: looking at a flower, baby head to caress and – as our great poets always say: to feel a young body – but it is only a form of unbridled joy and is evident today perhaps because girls and women are accustomed to it when a man touches them, the bed comes right after him.)
Even today, I do not even consider it important to explain the things that unnecessarily exhausted Hungarian youth in their physical existence, that in the end their natural ambitions faltered in relation to women and men. You should know each other about these. You're smart enough, think about one thing or another. I don't have the ambition to rush to bed with you or my ex-girlfriend, but I was happy or would have been happy if I caressed and kissed you. It's not a pain if it can't be. We were milled whole in two mills."
You feel that you have become a different girl than I knew you in Pest, (or because it is a foreign thing to you, to realize right away with nice feelings, and so on) you even demand distance from me. "The old dear, foolish, not always honest Icalka" – for you, I am still today, but not primarily, and perhaps even under the pressure of various difficulties, that I don't fool around much for weeks, or even laugh for weeks. Years later, I also became a professor (but I didn't put so much weight on you that you should mention this, that you are one of the best photographers in Paris, or that you are the best or you will be, I already knew in Pest, and that I'm really ripping something out of my head that means something, you and I knew it was still in Pest – it really can't be so important that I can mention it in the first place) years have passed, maybe I'll have to build a new bridge with my mother and Imre, and with everyone I've ever loved and want to see once again.
You are not indifferent to me, you were not – I am much more vain that I could not even think that the one I loved was not a worthy person – I saw you, I knew about you that you had become different, yet you remained Erzsi; Who can jump out, dear girl, out of her skin and for me, what mattered until the new bridge was built was that the ancient sympathy for the feelings and not for the head and not for the thinking brain (novel, literature) remained fresh.
You're a calf, Erzsi, little dear calf, I'm a new gate. Or vice versa. All the same. Damn it – I'm so angry that instead of caressing and dreamy letters, here I have to give a defence, because in the end I didn't want to fall into the sink You want, again a 2 year break, you women are mostly asses. Hugs Laci
---
List of the names that are mentioned in the letters and postcards
Béla: Béla Uitz, Hungarian painter and graphic artist
Lucia: The first wife of László Moholy-Nagy between 1921-1929
Lyonel Feininger: German-American expressionist painter
Paul Klee: Swiss painter, graphic artist
Vasily Vasilyevich Kandinsky: Russian abstract painter, writer
Oskar Schlemmer: German painter, set designer, stage designer
Georg Muche: German painter, designer, writer, teacher
Iván Hevesy: aesthetician of Hungarian film and photography, film and art historian
Walter Hasenclever: German expressionist poet and playwright
Joli /Jolán was Ergy's younger sister.
L'Esprit Nouveau: French literary art and architecture magazine from 1920-1925
Amédée Ozenfant: French Cubist painter and co-founder of L'Esprit Nouveau
Ernő Kállai: Hungarian art historian, art writer, critic
von Gerven:German collector
László Horváth: Unknown
Sari: Unknown