Passion. It seethes from her, oozing and then gushing. You could feel the steam coming from her head, like a broken garden hose out of control, pouring hot, super-hot, nuclear and readily explosive. She was textbook passion. That was unmistakable about her. Passion becoming obsession.
The students met with me in the first large room of the Palazzo Cenci headquarters, RISD's golden spot in the old city, occupying a palazzo with a long dark legacy. The rooms were quite familiar to me, having spent a brief semester there a few years earlier as a grad student. We began with some brief introductions and they turned to lay out their photographs on the sofas, from the seats to the wall, leaning them for all to see. I thought we should start with a first critique to see where people were in their work. Among the lot, one group stood out and I gravitated toward them. One student took ownership, identifying herself as Francesca Woodman. She stood out, like her photographs, dressed in an old vintage dress of some kind. I pointed to one that was rather unusual and spoke.
I love this image in particular, it works with the eels in the bowl, next to your body, this one works, it's a beauty, so provocative… Got them, the eels at the Campo?… Yeah… The sheer white of the bowl brings them forward… This one with your arm extended toward them is best, I think with the gesture, it accents the eels… but why the stains on the paper? Your technique is not good, needs to improve. You have the images, you got that down, but you're so sloppy in the darkroom. Richer blacks would help and you should think about using two fixers, with plenty of wash, maybe some selenium toner as well… What is this paper… the Polycontrast paper? Treat your images better, give them the respect they deserve. Your prints won't last, and this should be important to you, even as a student…
I don't give a fuck about the technique… I just want to burn the images down and fix them long enough for me to see… I just want to see them, bring them out… let them live…
Well, it's likely that they might not live very long.
Fuck it!
This was her emphatic response, the persistent, inflated attitude about her work. She knew better and I couldn't convince her otherwise. This was her distinctive manner, and it would never change in the time I came to know her. She was clearly so hurried, so anxious, so utterly rambunctious, and basically a mess. Her appearance, though an attractive young woman, was more that of a crazed little girl always racing around, never sitting still long enough to really converse. Her mind was made up, and little to do to penetrate with an outside thought. Her brain was completely twisted to the right side with little room for anything rational.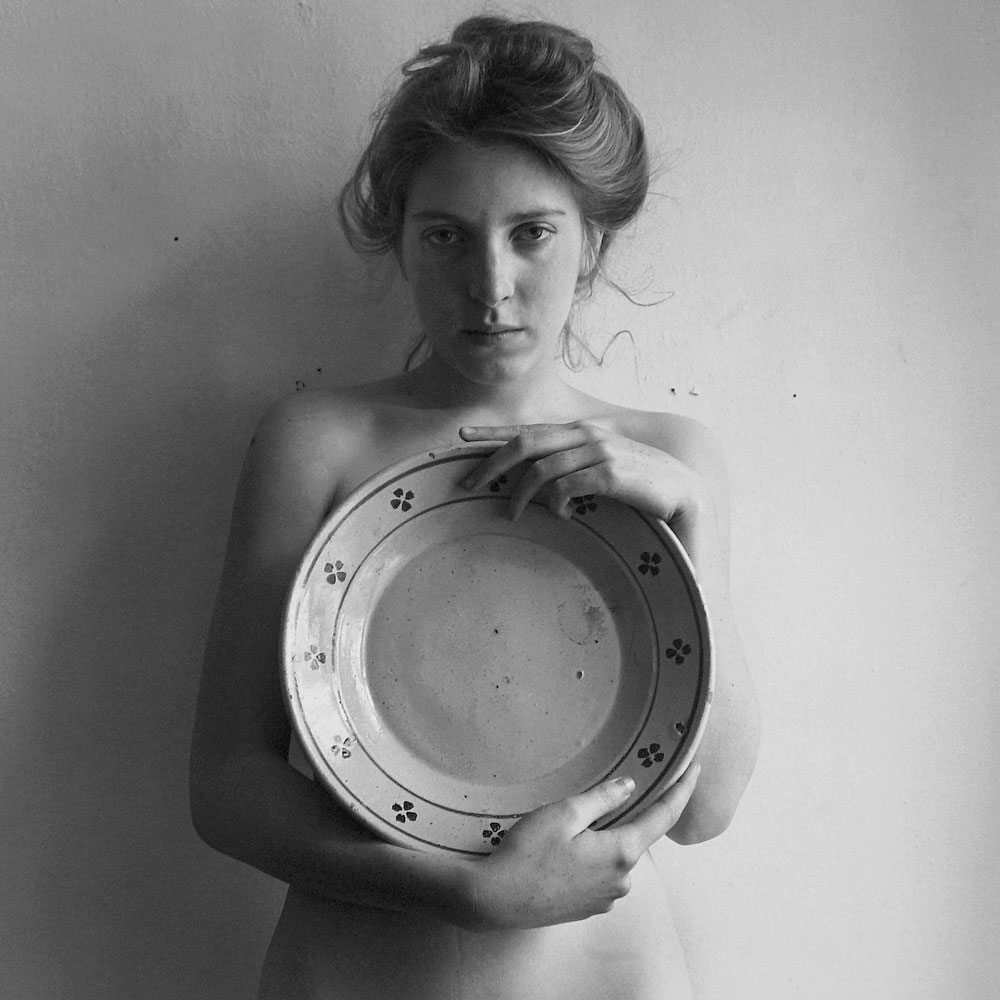 She did fascinate me. In a way that was her charm. She could be repellent, certainly cocky, yet alluring. Boisterous for sure, and a real pain in the ass if she did not get her own way about anything. I would observe her argumentative with the other students around the Cenci. Other times, she became charming in an opportunist way. You could not help but be taken in by her, if she was looking for something, anything to benefit her art-making. If ever there was a non-conformist, a rule breaker, it was surely Francesca, no doubt about it. She was the unruliest student in the small photo class that Hardu had asked me to run at the RISD headquarters in Rome. With Hardu Keck as Director, the Cenci's tribe could operate smoothly by his calm manner.
No one could pin Francesca down to even listen. I learned that pretty immediately. She lasted the one class, the first one when we spread out the work for all of us to get acquainted. The three other students in the class were far below her level of creativity, that became obvious. Brilliant and a pure natural. She self-acknowledged this by her own conceit. This was hardly the easy informal cooperative photo class I envisioned. Informal for sure, with no real structure. I was here to teach and earn some extra lire to put to my inadequate monthly stipend for my borsa di studio, my fellowship.
This was the fall of 1977, the beginning of my Fulbright year in Italy, and I was planning on heading north to Umbria, to make my new home in Orvieto. Before leaving, I was charged to run this occasional photo class for the mix of the junior art students at RISD Rome. After our first meeting, I thought I would return from time to time and help with the progress. My recent slide talk at the Cenci was my introduction to the new arrivals, showing some previous photographs from Rome that I made just a few years before. I was a student myself then, a rare grad student in the European Honours program. I was like them once upon a time, now trying to be a good example of what hard work could do, earning a return to Rome.
I was more excited about Orvieto and my own agenda, the accepted plan was to stay up in tranquil Umbria for the year. An exhibition was scheduled for me at the American Academy in December, and this would bring me to Rome frequently to organize and ultimately install the work. I could look in on the photo students who cared to have their work critiqued. We did manage a few more classes, sans Ms. Francesca. Though I did see her not infrequently, dragging some crap, a pile of clothes, tools, boxes, rubbish, broken anything, flying through the Cenci rooms, and then slamming a door, indicating work-in-progress and stay away. None of your business!
Francesca and I rarely spoke after the eels' paper image had been presented in its crude stained manner. I had asked her about the eels after the initial class, and if they were ultimately to be consumed following the photo session. I was told no, the eels were not to be eaten but left out behind the Cenci 's palazzo for the stray cats to tear apart. I learned that whenever food of any kind was involved in Francesca's photographs, the Roman cat population of the Ghetto would surely benefit. They got all of the edible props, dumped out back by Francesca and her cohorts. There were always one or two faithful ones assisting her in her photo shoots and private dramas, her own tableaux. It was quite clear who was in charge among the small groups she led. Whatever wasn't quite edible basically got pushed to the side of whichever room she was working in, an ongoing assemblage pile of anything, a haphazard still life. It was her trace marking. You could almost feel the heat emanating from the rubble, long after she was gone.
Orvieto would prove to be impossible for me. Jack Zajak had given me an introduction to Guilio Montucci, who ran the only gallery in the small town. I also met the painter Livio Valentini, and Donato Catamo, the graphic designer, who offered to lay out the poster for my Academy show. Initially, I was all set up, finding a room with board at the home of the Fuschino family. The tranquillity of this quaint town was driving me nuts – too quiet and pristine. The wildness of Rome is what I was after.
The Fulbright Commission blessed my return with Santina Pace welcoming me back with open arms to the Odeon on Via Del Tempio in the old Ghetto. I thought it would only be temporary, that I would surely find a suitable apartment in the Centro. I didn't plan to be holed up in one tiny room of #14, though It did look out on the heart of the old Jewish quarter. I could open the windows and gaze out, embracing the noise and traffic below, a wondrous circus of activity. It made me feel more alive to be in Rome. I thought I would find my own apartment before long like many of my Fulbright friends had already done, spread out all over the city. With the Odeon only a block away from the Cenci, RISD's headquarters, I could resume my occasional class with the few student photographers interested in checking in with me.
Below a copy of Guido Reni's portrait of Beatrice Cenci herself, we would gather in a large open room. Francesca was no longer among them. It was disappointing because she was clearly the dishevelled star of the class. The void was indeed noticeable. The few dedicated students placed their prints among the couches in the room. What was here now was nothing exceptional, barely interesting: some studies of ruins and columns, shots of the Campo dei Fiori's vendors at work, and oh shit, somebody likes the Vatican and St. Peter's. How I hated that place, the epitome of hypocrisy I thought, keeping this opinion to myself. We talked about the obvious things like composing, simple things as with depth of field considerations which frequently were mostly overlooked. They all worked in the tiny 35mm format. Get in closer to the vendors, make contact, I told them. Do something special that speaks to you. What does Rome mean to you, this place, the experience of being here? Stop doing pretty pictures of the city that have been done and re-done. I thought the obvious, that only Francesca was doing something uniquely hers and making good use of what was possible here in Rome. I missed her interesting more personal work.
Francesca had uniquely chosen the 2¼ format like my own, and I noticed that immediately. I felt a kinship as we both loved the square. She used the ceaseless, old reliable Yashica twin lens. It was my own choice too at first, years ago when I jumped from the small 35mm size, later hanging my proud, expensive, and serious looking Hasselblad camera around my shoulder. When I asked the students about visual things that were obscure, the intent, the ideas, the attractions, what was in the pictures they were trying to make, all I got was mostly silence. Dumbfounded is how they appeared, these naïve students. I missed Francesca's back talk – her challenging me with her own assertions, be they a careless technical defence or not. They others barely uttered a concise word, and I found myself missing that sassy girl called Francesca. It was little fun for me, but I eagerly accepted Hardu's passing me a 20,000 lire note for my time.
I kept looking for an apartment in the Centro. I had little interest in going into the outskirts of the city. I had to be nearby in the pulse of it, where I could roll out of bed, grab a morning cappuccino, and then explore with my camera. Nothing became available. Nothing was really affordable, beyond the deal I had at the Odeon, barely eight bucks a day at 5000 lire. The exchange rate might change a bit, but proved affordable for me with my measly stipend. I became accustomed to rearranging the simple furniture in my room to set up some photographs with the models that I was using. Basically, it involved moving the bed out of the way and clear some space to work. Whenever possible, I would engage my local Roman models to work with them on their own turf, wherever they would roost. The bus lines were nearby on the Via Arenula and Largo Arentina or over to Viale Trastevere, or Piazza Venezia to traverse through the city. I would go where a photograph would take me, packing some plug-in lamps with clamps into a backpack, to add the light that might be needed. I also had a small flash to sync with my shutter if called upon.
---
My practice in those days – the mid '70s – was most often to work with models, and build some small dramatic tableaux. Before leaving Providence, I had worked with a woman named Eleanor. I directed her to hold a plain fan toward her chest, and made some exposures that pleased me. I was thinking of more simplicity that Spring of '77, wanting to get away from the more elaborate environments I had been working in.
My photographing was mostly hosted at the famed John Brown House in the city, rich with plenty of interesting interior rooms. Seeking greater simplicity may have been partly due to being told stop, to cease and desist after several months, forced to leave the historic elegant Brown house. It was discovered that I was photographing nude women there. The receptionist's suspicions proved true. She found it to be outrageous – nudes "running wild" in the stoic, all significant, proud John Brown House, named for the great benefactor of Brown U. and known prosperous slave trader of Providence. Absent of that space, I then used my own local Victorian apartment with bare walls to make some new photographs. In retrospect, simplicity was thrust upon me by circumstance. Rome too, offered some plain walls for backgrounds at the Odeon. I could fill them in with my various models. The fan worked with Eleanor, she owned it. The fan became a part of her. It worked. I decided to use that new, fresh image for my Academy show poster later that fall.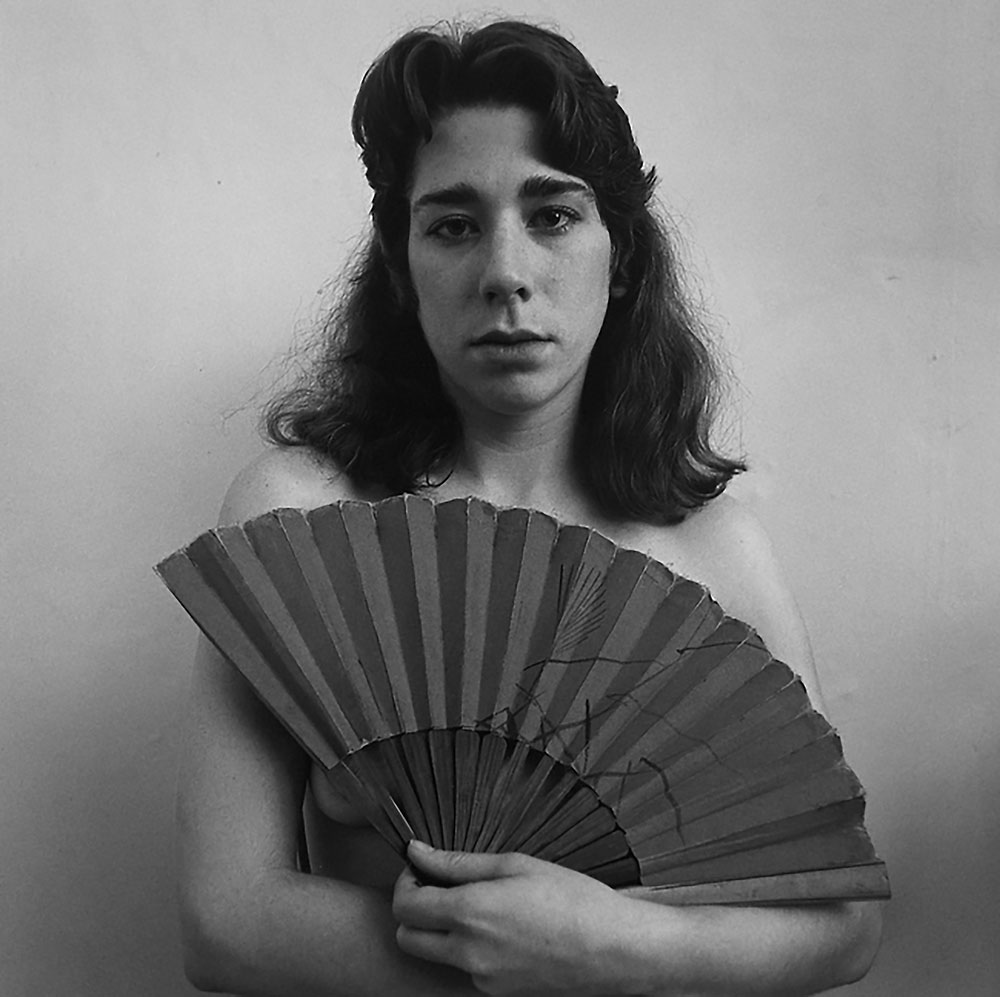 Hardu, my Estonian friend and RISD's Chief, lived across the river on Via Mantellate in Trastevere by the old jail, and I would enjoy visiting him. I always favoured taking Ponte Sisto, one of the oldest and most beautiful of all the bridges as my route along the Tevere river. The studio was well known to me from previous years when Jack Massey was there, then the Director of the Cenci's program. We students would often gather at his large apartment and working studio. The light was remarkable, and I was jealous of the possibilities of making pictures in this former soap factory that now served mostly expatriate artists, with Hardu – the painter, and Zajac – the sculptor. It was the artist, Paul Suttman's old haunt, a 3D artist who stayed on past his Prix de Rome year, with the studio keeping a rotation amongst the visiting artists, mostly RISD teachers. It was now Hardu's turn to take residency.
The sounds of banging, drilling, and colliding mixed music came from the closed doors along the hall leading to his rear studio, pure heaven to my ears. I loved it and I wanted it too, my own place. His girlfriend, Sloan was one of the students among the current class enrolled at the Cenci. Her best friend was Francesca, and this is where I would sometimes encounter the missing photographer from my class of RISD juniors. The ever restless, flighty Francesca would smirk and laugh in her coy way during the intimate gatherings of friends. There were always the great antipasti served and accompanied by endless vino for all of us in attendance. I never left Via Mantellate feeling less than high, filled by the consumption of lively conversation and libations.
One occasion, I happened to notice a large soft yellow plate with simple flowers decorating the circular border. It held Pecorino cheese and the usual Prosciutto crudo, placed out on the serving table among the more common array of different olives in the filled dishes. I asked Hardu about it, about the plate itself as I pushed aside the edibles with a torn piece of bread to take in its modest beauty. He claimed it was from Puglia. He got it down at the Porta Portese flea market, the weekly Sunday gathering of vendors, often selling treasures, mostly fake repros of antiquity, but a rare original might emerge if a hawkish eye could locate it among the rubble. I went there often in the early Sunday mornings, just another great weekly Roman event, unmatched by quiet Orvieto to the north. I never regretted changing my intended Umbrian address for a small Roman room on Via del Tempio.
I immediately had an idea for my next photograph. I wanted to incorporate this plate with a chosen model. My next photo session would be with this plate and the right female to accompany it. I had to find the most suitable model to bring to it. The plate was what I was most excited about. Hardu generously handed me the oversized plate to use for my anticipated photograph. I eagerly carried it back to my haunt at the Odeon, with a heavy head from too much vino, but with mild jubilation as to the possibilities of this round object in the right feminine hands.
RISD Rome was a great resource for me. As a part-time teacher, an alum, and visiting artist, I was privy to some various perks for purposes of photography, and I was given a list of possible models. I met with several and ultimately chose a dark-haired woman that I established a rapport with named Marlena. She and I spoke about the photographs I wanted to make, and I mentioned the plate that I was keeping for just the right model. I thought that Marlena would be the one, my choice of she as a well experienced and confident artists' model. We set an appointed time to work together, and I once again moved the few pieces of furniture around in my room at the Odeon to make the desired straight-forward photograph of a woman holding this unique Pugliese plate.
Marlena came to my cramped room and stripped down, exposing her nude body without inhibition. She had the poise of a professional, moving and working cooperatively to my every direction. I began with a few simple studies of her body, gauging her response to the camera. She was very relaxed and easy going, following my few simple directions. I eventually handed her the plate to hold and bring close into her bare chest. It all stopped. What little momentum that had been building was gone. There was no emotion. There was nothing there. The plate became an obstacle, more of a barrier now between us. This is not what I wanted, what I sought. I felt it and sensed that the film would only substantiate what I saw, like a stuck-out thumb. I hoped that I would be wrong.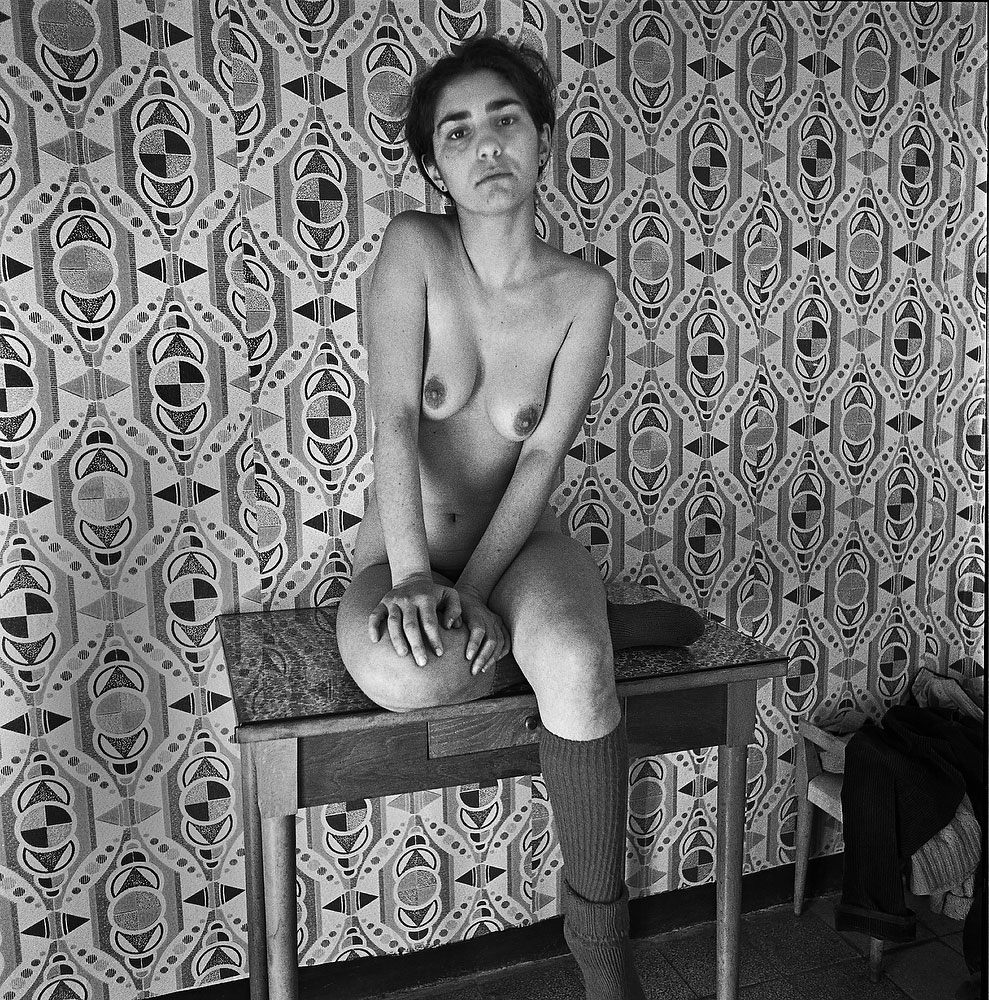 Every photographer experiences the few, rare joys knowing when a picture hits and certainly the many disappointments when it fails. I was no exception. But it was a real let down in the aftermath of viewing the contact prints made from the several rolls of negatives to see what was there. There appeared a person, a woman holding a plate, and that was all that was there. It felt awkward, out of place, forced, and unnatural, even stupid like the prop that it became. I wanted more than that. It didn't make sense. A big let down, not the first time for me, but I had such high expectations, and it sucked. It didn't work. I put the plate aside with no further scheme, and went back to the streets to photograph.
---
There was a knock on my humble door at the Odeon. It was always such a surprise to hear that sound with me four floors up, lacking a personal door bell. It was exciting, someone seeking me out, probably only Monica, Santina's niece telling me about an odd phone call directed to me. I opened the door and was shocked to see Francesca herself, standing and smiling, of all things – she was smiling at me! I never saw her smile quite like that before. I more observed her rather haughty smiling way around the Cenci, avoiding our class as she did, like she knew better. It was intriguing and inviting to see this smile now just for me, a coy and captivating look. From day one, I was always impressed by her smarts, even her power to charm. But I never quite felt that I could trust her. She had to be approached with due caution. She spoke with great enthusiasm this day.
I have an offer for you. I know you have been looking for an apartment, and you can have mine. I am going away for three months, maybe more. I plan to head to Cairo and then into Northern Africa- Morocco and Algeria, and then into Spain. You can have my place on Via dei Coronari if you like …
Jesus, I would love that I thought, the chance to be in a new space, and on that glorious street with all the fabulous antique shops. I was ready to jump at the chance, but thought better to ask the rent and any possible issues. 150,000 lire? A good deal for sure, I can do this without even seeing the place. It would be a breath of fresh air, even if it was filled with trash by the current tenant. It didn't matter. I was more than ready for a move, in spite of Santina's warm hospitality with her kitchen and car privileges extended to me. I would move to Coronari for this opportunity to be in a fresh space and potentially use it to photograph. I thought, only Francesca could finagle an apartment on the great Via dei Coronari, mostly filled with the old Roman families.
Within a few days I was there. I forked over the first month's rent and brought everything I owned in Rome with me. Hardu helped me with his car to transport my heavy trunk filled with necessities, portfolios, books, and photo-art supplies. Three months and maybe more was to be a fantastic thing, a real gift. The light was in fact glorious and the place was surprisingly neat and civilized. The three rooms were all large with great ceiling height. Finally, I had a working studio and apartment to call my own, at least for three months. I even had a decent small kitchen to work in. I was in fact, more than excited. I found it thrilling to become even a short time resident on the fabulous Via dei Coronari.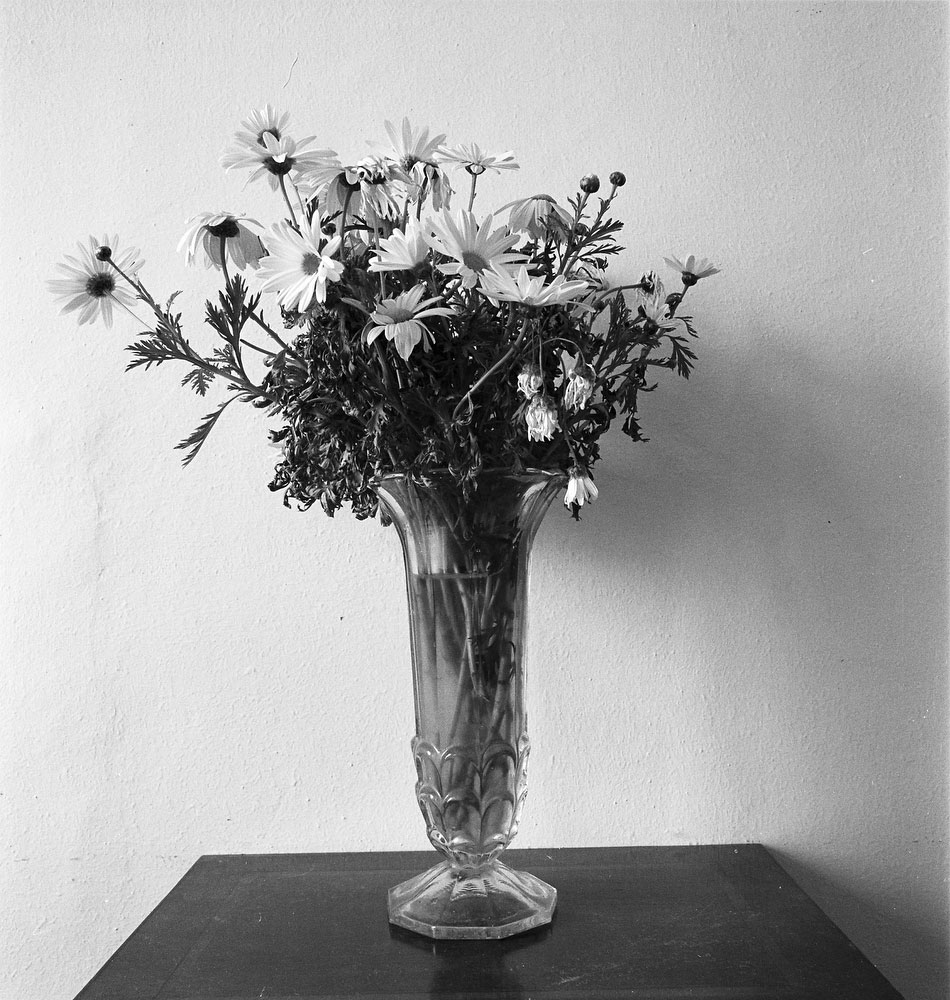 I took to working there pretty immediately. I set up several still life arrangements, inspired by finding one ready-made of an existing vase with daisies flowing out, some well opened and bright, a few dead already, with others never quite blossoming. I thought – this is a great statement about life itself. I brought my faithful empty two-litre bottle, given me by Santina, now used occasionally to replenish my wine. I placed it in Hardu's Pugliese plate which I continued to borrow, arranging some fruit in the artists' fashion around the bottle in the centre, and made some photographs. Hah, I thought, the plate had another purpose. This was it.
The light changed between several exposures and the winding of the film's advance, producing a single perfect frame with a slight shadow. It spoke to me and I could see it happening, knowing it would be there on the developed film. I used a blackened closet in the apartment to load the film, and then to the large bathroom to process with running water. The bath later substituted for me in stringing a clothes line to hang prints with pins for drying. Unlike the two printing darkrooms I had in the city, from my friend Vanni's available one and the other at the American Academy with privileges extended me, here there was plenty of water for proper washing in the apartment. Taking the autobus and jammed into a crowded corner, I would carry wet prints home in a tray to finish washing them, creating a small puddle in the rear of the bus's floor.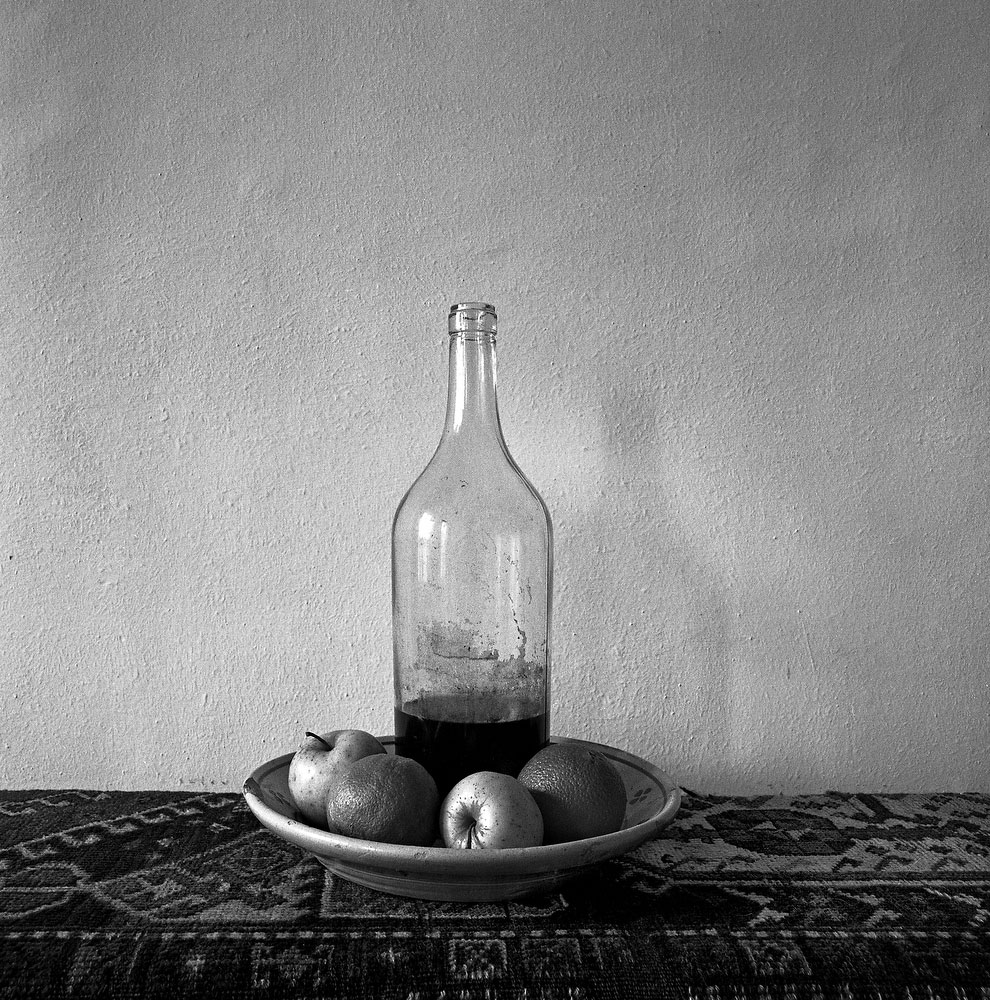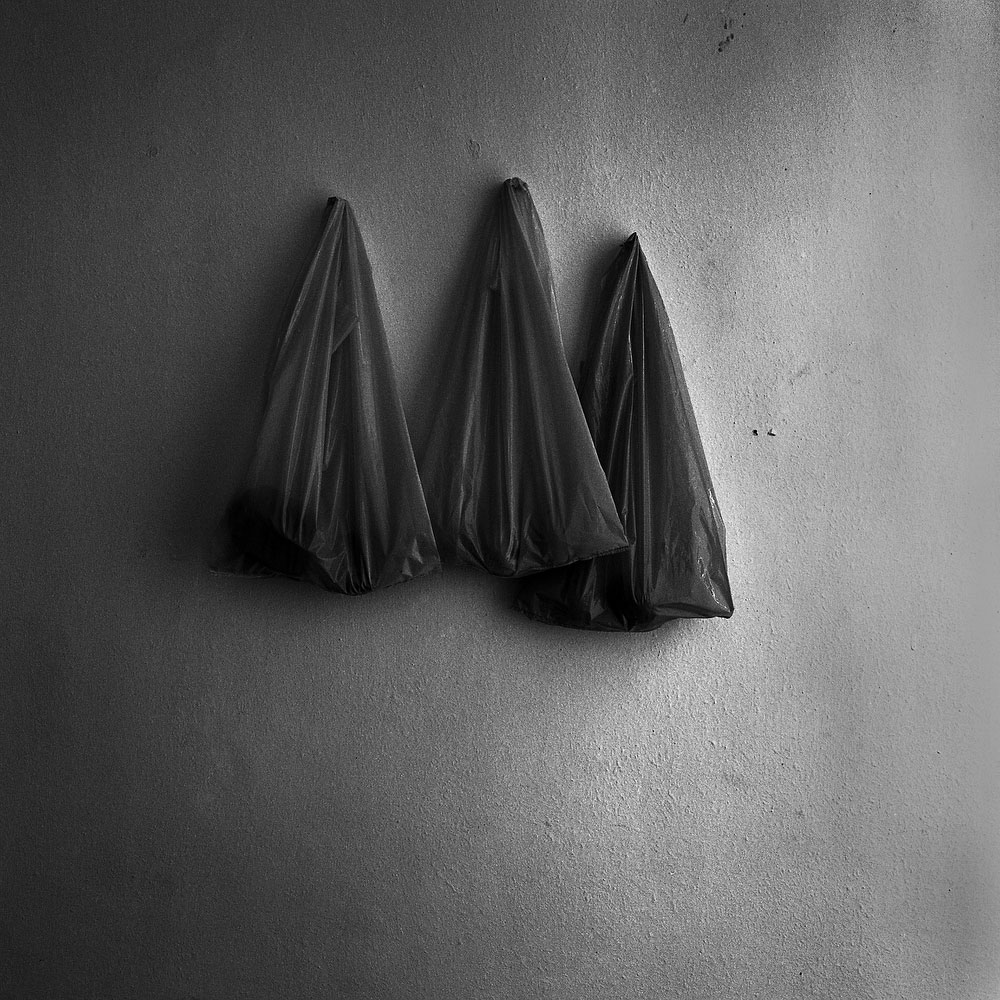 I made a third still life study at Via dei Coronari #60, with the pastel coloured plastic bags. The ones that that I received daily from my visits to the local open markets, mostly at the Campo dei Fiori. I kept the vegetables and fruits in the bags and pinned them to a wall in an orderly manner. I could pre-visualize the predictable greyness with that of the wall. The sacks were a subtle marking upon the grey background.
This famed street in Rome, just beyond the busy Piazza Navona was perfect for me, and it quickened my pace of new photographs. The street with all the great antiquities of old Rome were for sale in the shops leading up to my door. I loved walking and staring into the shops to see the treasures that I could never afford. I made more successful photographs in the first two weeks, then in multiple recent weeks past. I noticed one young student from the Cenci, a woman named Ruth, who proudly wore a star, the star of David around her neck to proclaim her faith and alliance. The simple shiny silvery star became quite appealing, and like the fan with Eleanor that was successful, and with the failed attempt of the plate with Marlena, I would try again this sought simplicity of a single woman with object, worn or held.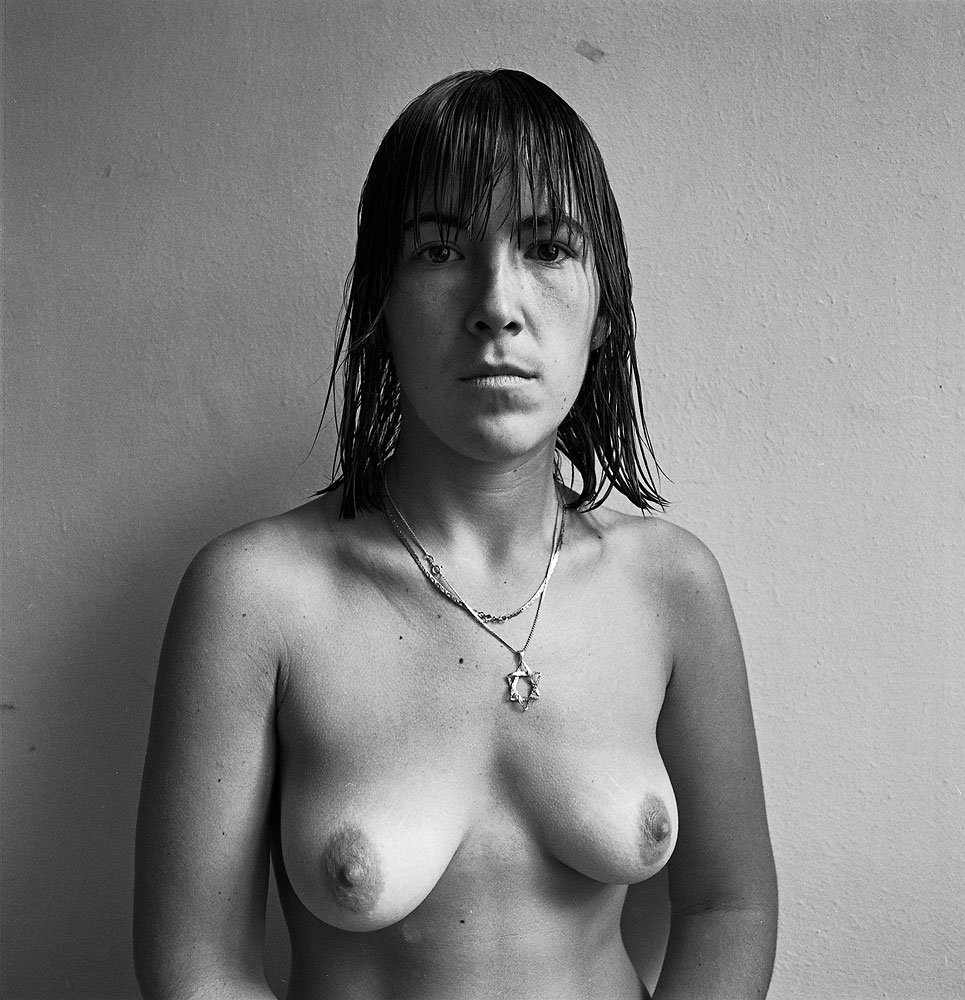 Ruth modelled for me wearing only her star. After a short while, I asked her to wet her hair, desiring a different texture, flattened, and bringing more attention to the delicate jewellery piece. I liked what I saw and knew I had made a new photograph to keep. Her breasts were lovely in her small frame, embracing the star between. This worked and the prints made later, gave clear evidence of its working. We enjoyed our time together, Ruth and I, with the Hasselblad humming from so much activity. And still with a few months more time, I felt excited by whatever else I could accomplish in this new flat I sub-rented from Francesca.
Some certain spaces seemed to bring it on, and the photographs would come. Other places might inspire with little accomplishment. Via dei Coronari afforded me great opportunities, and to think I still had some possibilities left of working-living time. Wow. There would be more live models I planned among the many ideas stirring round in my head. Looking back, I can see it was the pinnacle time, the most productive of my Fulbright year, in spite of its being cut short with little notice.
---
There came a familiar knock on my new apartment door, the sound a little different this time from a more solid oak door on the Coronari #60, then the flimsy one I left behind at the Odeon. It was she, Francesca had re-appeared, not smiling coyly this time. What was up I wondered as she said quickly, I have to talk with you, taking a serious tone. I motioned for us to sit around the table and waited for her next words. She was all business taking a chair and announcing emphatically:
I'm not going. I've decided not to go to Cairo or anywhere else right now. I want to stay in Rome. I want my apartment back. I need to get back to work here. I can't go. I need to stay. You have to leave.
Really. I was stunned and then pissed. This was ridiculous. I hadn't been there quite two weeks with momentum building. Now to come to a big halt. What the fuck?
I protested.
What are you doing? This is not fair. You enticed me to come here with the prospect of staying for a few months, and now you want me out? This is not fair to me. And I've just gotten started into my own work here. The place works great for me, and now I am suddenly out? Not fair to me.
I know, but I need my space back. Can you get out soon, this week?
Are you kidding? I gave you a whole month's rent. I am not leaving until the end of the month… this fucks me up good… my new show will be due… and I'm working on it… This really fucks me up.
Sorry, ok – I guess you should stay till the end of the month. I guess that's ok…
You guess? Are you kidding? That's the least you can do… approve of. I am entitled to at least that… finish out the time I paid you for… you can't expect me to just leave? Yeah, it is ok!
This impetuous girl … completely ridiculous … I looked at her from across the table. I was angry. Could I go back to the Odeon? Would Santina have room for me again? I didn't want to leave. Maybe I could speak to the real landlady of Coronari #60? But who was she? I didn't even know the name, let alone know where to find her. What could I do, but leave?
I asked what happened to Cairo, but didn't really hear her response. This crazy girl. What did it matter, a change of plans … this is bullshit. I was trying to gather my thoughts as the tension in the air was rising. Francesca was looking downward, playing with her fingers. I looked over at her, just a few feet away, taking her in, her unique attractiveness, bolstered by that cocky attitude, a strange beauty in an old vintage dress. I thought, this little girl, when would she grow up and behave like a real adult? I thought she acted her age of barely twenty years, a self-absorbed brat who had to have her way.
I began to notice her, now with her long hair pulled back. She was all natural. Never in the short time I came to know her did she ever wear makeup or polish herself in any way. She was always the same, the raw type she chose to be. I began to find it appealing, her long old dresses, always less than neat and dishevelled, these funny ways of her own non-conformity.
I looked out upon her from the dark wooden table separating us. Hardu's Puglise plate was between us with a lone yellowish apple sitting in it. I had used it in the prior photograph and had released it to its basic function of sitting on a table and holding objects, with my few keys on a ring alongside the apple. I turned to look over at Francesca, who was clearly feeling triumphant in the purpose of her visit. She appeared a more smug now, as she would be getting her place back, disrupting me in the process hardly mattered. This I knew.
I had an idea. Here before me was perhaps the perfect model to embrace and take the plate in, this grand dish from the south of Italy. At least I would try the plate with Francesca and see what happened, nothing to lose. This old dish to be paired with this defiant young woman, the impish young thing that she was, after pulling the rug out from under me, leaving me without a home to call my own. I was soon to be no longer a resident on this fabulous street in the great Centro Storico of Rome itself.
Hey, how about doing something for me now? How about posing for me for just a few quick shots, it won't take long… just a few. I have an idea to explore.
Francesca immediately perked up. Though she was quite accustomed to being her own self-directed model, the prospect to work with me seemed to please her, and her mood began to shift.
What do want… what would you like me to do?
Easy stuff… let's make it happen. I have this plate that belongs to Hardu and I have to give it back soon. I would like you to hold it, to bring it into your body and to really own it. Make it a part of you. I think it might have been made for you. Will you work with me on this?
I almost said to her that she owed me something, after telling me of her intention to displace me abruptly from the apartment, but I thought better before opening my mouth. It could possibly backfire and my fear was she might smash the plate if I made her angry. I thought she could be volatile, at least unpredictable.
Ok, let's do it.
She said this with an almost meek smile. She appeared pleased to pose for me and it surprised me that she so readily took to the idea with little coaxing. Modelling certainly came natural to her. Whatever hostility there was had begun to recess. Now I had a real purpose here, again on the Via dei Coronari.
Francesca was not an overly modest model. She was used to appearing in the buff, mostly alone, but also with her cohorts for her own fantasies and dramas. For me, it would be simple, to have her stand by the textured wall and follow my lead, my directives.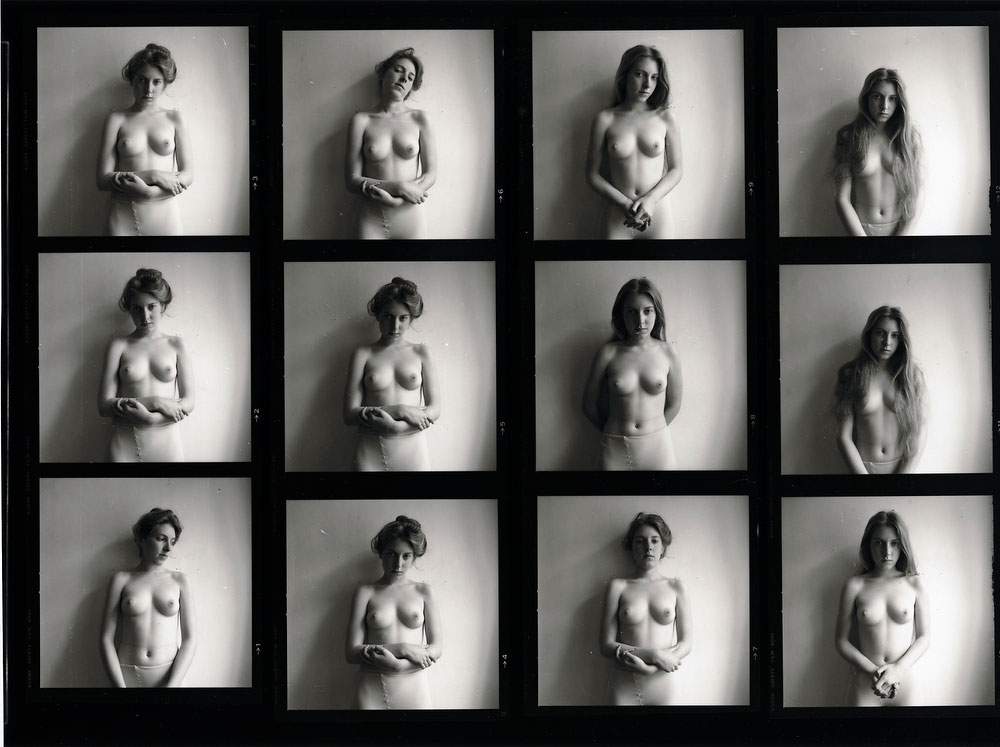 She stood up and moved as I motioned toward the wall closer to the windows, offering the ambient and radiant light that greeted the apartment each day that I had been there. This was true Roman light in my mind. How I loved it. How I would miss it.
My tripod was nearby and I brought it over to my chosen spot. My camera was close with film ready to load. I removed its 120 back, taking the empty spool out and moving it into the opposite advance position. Tearing the foil from the Tri-X film that I always used, I placed the loaded spool into place and pulled the paper backing into place, winding until the arrows matched the ready spot. I put the insert into the film back and secured the cover light tight, and began to wind the film's first frame into position. I screwed the now loaded camera into the tripod's mount, and pointed the machine toward the wall and target area of light.
Francesca was waiting for me very willingly to hear my next request. I went back to the table and removed the apple, and the keys from the plate, brushing it off slightly with a paper napkin that was nearby. I carried it over to Francesca now ready to receive it.
Before handing it to her, I asked her to remove her top clothing. I wanted her chest, her arms to expose her flesh, with only her bared body to support the plate in her hands, holding it close to her, very close.
Francesca began to oblige by pulling down her blouse and the undergarment below it and it became crumpled and stuck around her hips. She didn't need to be fully nude for this.
I knew the composition I had in mind, from the previous failed attempt with the other model, Marlena. This one seemed right, I sensed it quickly as Francesca grasped the large plate into her chest almost overwhelming her small body.
I took some light readings with my Gossen meter. Low interior light, requiring a minimum speed insured by the tripod's non-movement. The aperture was fairly open, with the wide lens offering sufficient depth. Everything would be sharp as I wanted it to be. And I began to make some exposures, simply straight on.
Through the ground glass I could see the plate touching into the patterned pulled down dress and I didn't like it, but made some pictures to warm things up. I knew it wasn't quite right. The need for the neutrality of her bare skin with the plate was becoming more obvious, so I asked Francesca to pull her clothing further down to free up her body from the plate. She readily complied, becoming very cooperative. Maybe she sensed she owed me something for throwing me out, but I didn't think so. Knowing her briefly as I did as a student with her own photography, for this model things were to be on her terms, her own comfort level. For someone like she, who on occasion might contort her body, put pins or other abrasive things into it, this was more of a cinch, an easy task for her to work with me by simply supporting a plate.
But that was hardly what appeared to be there. As she revealed to me, within and without through the ground glass I saw – something more was happening with this woman and large plate. Something I felt to be a bit mysterious, as was she herself in her own way, a bit of mystique, not someone so easily figured out. The plate may have been like a shield, something protective for her. With the plate before her, she was no longer partially nude, rather she became oddly, more naked, more revealing and open to her own vulnerabilities. I watched her hands grasping the plates edges. She and the plate became one. I thought my visual record of this would well reinforce it, a kind of sadness and sincerity about this very woman, this girl that I saw with her persona being stripped away by bearing the plate. It became a curious struggle. Her eyes revealed this in the subtlest of ways, a slight brashness about them in the twelve recorded frames we made together.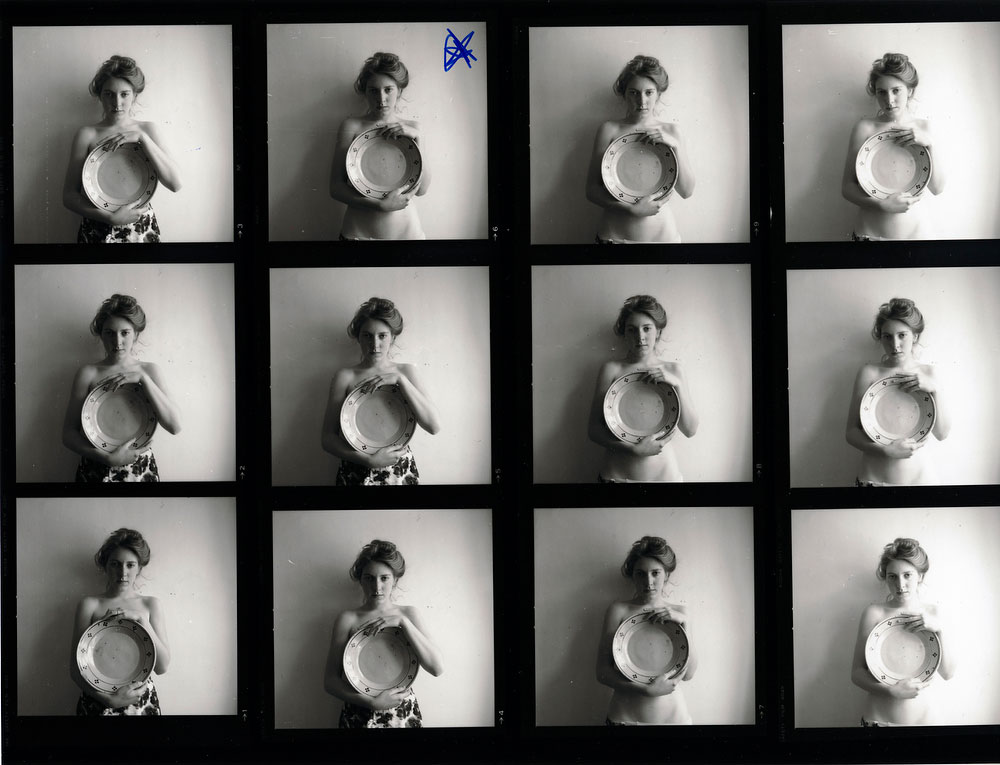 I had to stop and reload the film magazine with a fresh roll of twelve. I was confident I got something special, perhaps more than what I was seeking. Now I thought we would remove the plate and see what might happen. For this second roll, her hair remained tied up high as it had been. I didn't ask her to, but she decided to pull her hair down, just to her backside at first, and the last few frames brought her long hair frontal, slightly covering her bare breasts. I liked these. But I knew it was going to be the plate that I was most inclined to work with as a completed image.
I felt this to be the accomplishment. There was no failure here, but something that truly made sense in bringing forth, a precious kind of weakness, a human quality. Her persona had been tampered with, and a kind of truth emerged. I believed the processed film would hold up and substantiate what I was seeing in front of me. I couldn't wait to process and fix the images to light and keep them permanent.
We were done and as she fixed herself, we exchanged some few words after our brief and spontaneous session together. I told her that one image of her would surely become part of my upcoming exhibit with two other Fulbright artists at the gallery in Trastevere. She said she would see the show. I told her that I would make a print for her, and she said she would have something for me too, an exchange. I hoped it would be a print of her with the eels in porcelain.
As she left and closed the door after her, it did not occur to me that I would never see her again. I left the apartment two weeks later without contacting her. Santina welcomed me back to the Odeon once again.
---
One photograph Francesca made among her Providence locations in 1977 was aptly titled On Being an Angel. It's been reproduced in the many books, large and small since her work began to get attention within a few years following her untimely death. I credit Anne Gabhart, the then Director of Wellesley College Museum as one of the key people to early on bring recognition to the work of Francesca Woodman.
As I see the photograph today, it almost becomes a foreshadowing of what would tragically follow in 1981. Francesca did become the angel she had imagined herself to be. The perspective of her photograph, shot from above, marked her earthbound, almost trapped in a way, partly gazing upward toward a peaceful home that she would later come to claim. One could say that she is in a better place now, though never to experience the public recognition that would come.
Gabhart, along with Rosalind Krauss and Abigail Solomon-Godeau, put together a terrific collection of the little-known works, documented with a catalogue in the Spring of 1986 and shown at Wellesley, the small elite college not far from Boston. I commend them with trumpeting the work of this artist, viewed as a prodigy. The select prints in the show were a thoughtful assembly, marking this short career, and presenting what might be considered the great potential of the young photographer. I believe Francesca would have loved this true performance of her work.
I was certainly familiar with work from the old Roman days, but like most people, had not seen the photographs in a true exhibition format, beautifully done. The matted and framed prints revealed no spots or stains. I thought that she must have cleaned up her act, with proper fixing and sufficient washing. What did stun me however, were the few large format cyanotypes, most often called blue prints, hanging loosely from the canvas surface they were printed on. I had no idea she was working like this, rolling her body across the drying chemical surface, laying still just long enough for the heat to take form. She truly lived the work.
Over the years, I have had the opportunity to speak to various people about the Francesca that I knew so long ago when we were both in Rome. She attended my second Rome exhibition privately in May, 1978 at Galleria Nuovo Carpine, sometime after the public opening. There she was able to see herself as my model. I wondered about her thoughts in seeing herself as depicted by another in a different kind of drama, certainly less congested. She left me a note which I still have, telling me she liked the show and asking for a print of herself, and if possible a contact sheet from our session together. She was interested in knowing about how I choose the work from the greater lot.
It is unfortunate that we never came to exchange the prints we promised each other as our paths never did again cross. Not long after my return to Providence after leaving Rome, I moved to Hawaii where I had been invited to teach at the University in Manoa Valley. I had little chance to reach Francesca, then living in New York, and beginning her post-graduate life as an artist. We were literally thousands of miles apart, but I felt I owed her a print that had been promised. And I would get it to her.
I received the long-distance call, in late January of '81, telling of her passing in her own manner. I was shocked and saddened, but hardly surprised. I knew the restless, and unnerved girl that she was. Whether she was depressed or pissed off, or both, I didn't know. What I did know, was that she had succeeded, that she was now that angel that she intended to be. Her magic had come true, perhaps forced, but for certain, she chose her destiny, leaving behind a legacy of fascinating images, and making her mark within a short lifetime.
I did the best I could to get a print to her, posthumously. I saw Betsy Berne, the painter, in New York, a close friend of Francesca's from the RISD Providence days. I met Betsy earlier at Yaddo, when we both had residencies in Saratoga in 82'. I asked her to give the print along with a note from me to Francesca's parents, Betty and George Woodman. Betsy took the print and angrily shook it in her hand and claiming, "They don't deserve it." It was felt by she, and others, that the estranged relationship Francesca had with her parents was the cause of her suicide. Betsy claimed it happened just moments after a roaring argument with her mother. I don't know about that, nor do I know if the print ever reached the Woodmans, but I felt I did the best I could in fulfilling a promise to my model.
Today I think of this young artist, troubled and brilliant, her career cut so short. I think of what could have been, the further potential of her creativity. If only her talent and ability could have matured into greater form. Her work can be seen more as a flirtation, more the markings of a rising star, never to fully bloom. It was not meant to be.
Her final act was fitting, in a way tragically appropriate behaviour for an untamed, undisciplined artist. I know little of her trials, her failings that followed after Rome.
We both spent part of a summer at MacDowell Colony, she following me a year past in 1980 to work at the Putnam studio. Our names, along with others, are forever linked on a signed wooden paddle there. Francesca had few professional exhibits in her brief lifetime, most accolades coming later. And they continue to increase, the credits and affirmations of the quality of her photography, her vision, her artistry.
Francesca Woodman was her own enigma. No one, especially all the curators and historians who have written about her and the work posthumously, could ever figure her out. At best they could only speculate, surmise, ultimately assess and debate the artist and her work. It is they, like Gabhart and others who have witnessed only the ghost of this woman, and have placed her and her art on a rightful pedestal. I concur, one who knew her briefly and was touched by her passion. It was this, that powerful fuel deep inside her that drew Francesca to her final act. It was passion.
Stephan Brigidi was born in Providence, Rhode Island in 1951. He is the author of seven monographs of his photography. A recipient of a Fulbright-Hays Fellowship to Italy, a National Endowment for the Arts Fellowship, and a resident artist at MacDowell, Yaddo, and MASS MoCA, Brigidi's work has been acquired by more than thirty museums in the US and Europe. Stephan Brigidi lives and works in Bristol, Rhode Island with his artist wife, Julie, and their four-legged family.